Our new, low cost P.T. anchor is designed to hold a shear bolt in place to an exact height. The embed is nailed to the wooden form in the required layout. It has a low profile to minimize interference with rebar & P.T. tendons.
When the rebar is set, the upper half of the embed can be connected to the lower nail plate and adjusted to the correct height, where the coupler is flush with the top of the concrete.
After the concrete is cured, our new locator cap will easily show the location of the embeds, the cap is then removed, and the embedded coupler is revealed to accept a sill plate shear bolt.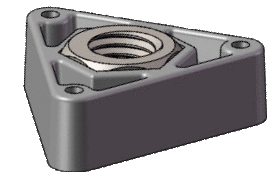 Please visit www.ptanchor.com for more information.